Furnace Screens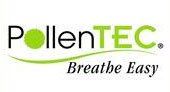 Pages in this Section: Air Filters, Furnace Screens, Door Screens, Window Screens.
PollenTEC is a revolutionary screen fabric that acts like a 'filter for your whole home'. PollenTEC allows fresh air to flow indoors while filtering out up to 100% of pollens and other harmful microscopic airborne particles. Made of premium European polyester, PollenTEC fabric has an intricate spun weave with a patented coating that attracts pollens and other microscopic particles like a magnet.
Superb performance, durable and washable, PollenTEC is a smart choice green building product that protects any indoor environment.
Please note as PollenTec screens are custom cut to size, they are not returnable.
Showing the single result